Stainless Steel Needle Valves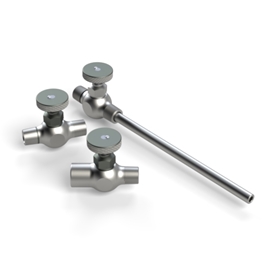 MGM's 19 Series needle valves are designed for use in laboratory or other applications where fluid transfer is required.  They are ruggedly built for severe environments of up 350º F and 1,800 psig.  Valves in this series feature American Standard 1/8" or 1/4" male and female pipe threads to mate with new or existing fittings or equipment.  Other features of the 19 Series needle valves are replaceable Teflon stem tips and o-ring packing and a choice of straight or angled body configurations.  Series 19 needle valves are manufactured from stainless steel.
NOTE:  DO NOT use a wrench to tighten the stem against the seat.  Hand wheel should be finger tightened only.  Over tightening the valve will result in unnecessary deformation of the Teflon tip and could permanently damage the stem threads.
| | | | | | | | |
| --- | --- | --- | --- | --- | --- | --- | --- |
| Series | Orifice | Body | Inlet | Outlet | Outage Tube | C Dimension | |
| Model 19A | Full | Straight | 1/4" M | 1/4" M | No | 1.813 | Buy Now |
| Model 19S | Full | Straight | 1/4" M | 1/4" F | No | 2.000 | Buy Now |
| Model 212A | Full | Straight | 1/4" M | 1/4" F | Yes | -- | Buy Now |
| Model 19B | Fine | Straight | 1/4" M | 1/4" M | No | 1.813 | Get Quote |
| Model 19C | Full | Angled | 1/4" M | 1/4" M | No | 0.906 | Get Quote |
| Model 19D | Fine | Angled | 1/4" M | 1/4" M | No | 0.906 | Get Quote |
| Model 19E | Full | Straight | 1/8" M | 1/8" M | No | 1.625 | Get Quote |
| Model 19F | Fine | Straight | 1/8" M | 1/8" M | No | 1.625 | Get Quote |
| Model 19G | Full | Angled | 1/8" M | 1/8" M | No | 0.813 | Get Quote |
| Model 19H | Fine | Angled | 1/8" M | 1/8" M | No | 0.813 | Get Quote |
| Model 19J | Full | Straight | 1/4" F | 1/4" F | No | 2.000 | Get Quote |
| Model 19K | Fine | Straight | 1/4" F | 1/4" F | No | 2.000 | Get Quote |
| Model 19L | Full | Angled | 1/4" F | 1/4" F | No | 1.000 | Get Quote |
| Model 19M | Fine | Angled | 1/4" F | 1/4" F | No | 1.000 | Get Quote |
| Model 19N | Full | Straight | 1/8" F | 1/8" F | No | 1.750 | Get Quote |
| Model 19P | Fine | Straight | 1/8" F | 1/8" F | No | 1.750 | Get Quote |
| Model 19Q | Full | Angled | 1/8" F | 1/8" F | No | 0.875 | Get Quote |
| Model 19R | Fine | Angled | 1/8" F | 1/8" F | No | 0.875 | Get Quote |
| Model 19T | Fine | Straight | 1/4" M | 1/4" F | No | 2.000 | Get Quote |
| Model 19U | Full | Angled | 1/4" M | 1/4" F | No | 1.000 | Get Quote |
| Model 19V | Fine | Angled | 1/4" M | 1/4" F | No | 1.000 | Get Quote |
| Model 19W | Full | Straight | 1/8" M | 1/8" F | No | 1.750 | Get Quote |
| Model 19X | Fine | Straight | 1/8" M | 1/8" F | No | 1.750 | Get Quote |
| Model 19Y | Full | Angled | 1/8" M | 1/8" F | No | 0.875 | Get Quote |
| Model 19Z | Fine | Angled | 1/8" M | 1/8" F | No | 0.875 | Get Quote |